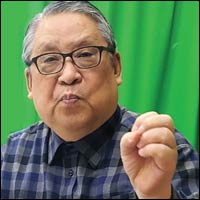 Buyong Hwang's 'The Dancers' series gives the impression of vivid colors and catchy lines of smooth and rhythmical strength based on descriptions of white silhouette. His works are footprints of a simple crystal. Viewers may feel as if they were watching thunder and lightning. It will take viewers a little bit of time to sort out their initial powerful impressions. Expressing the surging fortunes of life and the swelling of the liver, his works express human desires. As a symbol or a trademark, his works are not art for art's sake, but art focusing on humanity's everyday feelings. It is the purpose of the paintings to provide a sense of healing and belief in the emotions like talismans which is used to bring good fortune and prevent misfortune.

Buyong Hwang's 'Resurrection' series are remakes of the works first released in 2010 and 2012. The silhouette technique of his healing graphism works do not use anything other than the subject. While the images are symbolic, they are as simple as a symbol or a trademark. A happy man is not without wounds, but a man can heal himself through many wounds. Hwang's healing graphism works are emotionally capable of supporting this belief. Everyone lives with a variety of problems that are not resolved in their minds, though problems may differ from one person to another. Physical wounds heal over time, but mental wounds persist. Wounds exist in the form of energy within our bodies. No matter how hard we try to get rid of them or deny them, they are hiding somewhere and, from time to time, appear seemingly out of nowhere.
황부용 (黃富庸)

1951년 부산 출생

학력

서울대학교 미술대학 응용미술과 상업미술 전공 졸업
서울대학교 미술대학 대학원 시각디자인 전공 졸업

경력

명지전문대학 전임강사 및 조교수 역임
서울올림픽대회조직위원회 디자인실장 역임
디자인연구소 디자인브리지 대표 역임
중앙일보사 편집국 신문디자인 전문위원 역임
조선일보사 편집국 신문디자인 전문위원 역임

화업

2009년 그래픽디자인계에서의 33년 활동을 마감하고 전업화가 생활 시작

개인전

2011년 황부용 힐링 그래피즘 "부활"/ 예술의전당 디자인미술관
2015년 황부용 힐링 그래피즘 "춤추는 사람들"/ 선갤러리
2018년 황부용 힐링 그래피즘 "춤추는 사람들"/ 예술의전당 디자인미술관

그룹전

2018년 이스탄불 아트페어 /터키 이스탄불 콩그레스 센터
2018년 타슈켄트 한국현대미술전 /우즈베키스탄 타슈켄트 시립 미술관

수상

1987년 프랑스 파리에서 개최된 IAA 주최 국제포스터살롱에서 2등상 수상

BORN

Buyong Hwang was born in Busan Korea in 1951
.....at the southeast edge of the Korean peninsula.

SOLO EXHIBITIONS

2011; Buyong Hwang Healing Graphism "Resurrection",
.....Seoul Arts Center Design Gallery.
2015; Buyong Hwang Healing Graphism "The Dancers",
.....Sun Gallery, Seoul, Korea.
2018; Buyong Hwang Healing Graphism "The Dancers",
.....Seoul Arts Center Design Gallery.

GROUP EXHIBITIONS

2018; Contemporary Istanbul International Art Fair,
.....Istanbul Congress Center, Turkey.
2018; The 1st Korean Contemporary Arts in Uzbekistan,
.....The Art Gallery of Uzbekistan, Tashkent, Uzbekistan.

EDUCATION

1969-1973; Studied graphic design at the College of Fine Arts,
.....Seoul National University.
1979-1981; MFA in visual communication design at the College of Fine Arts,
.....Seoul National University.

CAREER

1976; Graphic designer, advertising agency Oricom, Inc.
1977-1983; Assistant professor, dept. of visual communication design,
.....Myongji Junior College.
1983-1987; Chief designer, Seoul Olympic Organizing Committee.
1988-1993; Principal of the design consultancy DesignBridge, Inc.
1995-1997; Visual editor, daily newspaper The Joong-Ang Ilbo.
2005-2006; Design Consultant, daily newspaper The Chosun Ilbo.

PAINTING

2009; Became a professional painter after finishing
.....33 year career in graphic design in Korea.

AWARD

1987; Second prize, International Poster Salon, IAA, Paris, France.